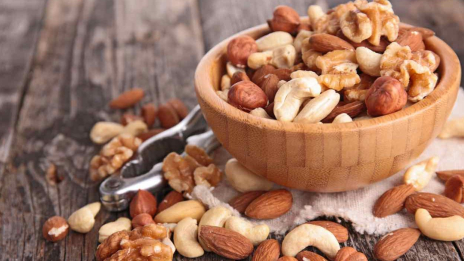 Despite being high in fat and calories, nuts and seeds may help you lose weight.
These foods are crunchy, filling, and loaded with important nutrients that many people don't get enough of, including magnesium and vitamin E.
They also require almost no preparation, so they're easy to add to your routine.
1. Almonds
Almonds are a popular nut loaded with vitamin E, antioxidants, magnesium, and fiber. Studies show that almonds can help you lose weight and improve metabolic health.
2. Chia seeds
Chia seeds are among the most nutrient-dense foods on the planet. A single ounce (28 grams) packs 11 grams of fiber and significant amounts of magnesium, manganese, calcium, and various other nutrients.
3. Coconuts
Coconuts are loaded with fiber and powerful fatty acids called medium-chain triglycerides (MCTs).
4. Macadamia nuts
Macadamia nuts are very tasty. They're much higher in monounsaturated fats and lower in omega-6 fatty acids than most other nuts.
5. Walnuts
Walnuts are highly nutritious and loaded with fiber and various vitamins and minerals.
6. Peanuts
Peanuts are incredibly tasty and high in nutrients and antioxidants. Several studies suggest that peanuts can help you lose weight.
However, take it easy on the peanut butter, as it's very high in calories and easy to overeat.