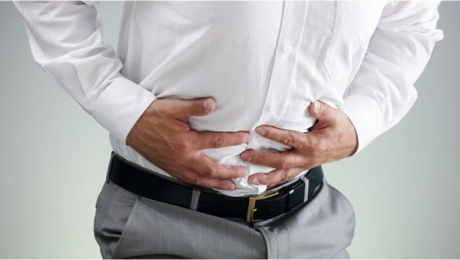 Diagnosis
Your doctor is likely to start with a health history and a thorough physical exam. Those evaluations may be sufficient if your indigestion is mild and you're not experiencing certain symptoms, such as weight loss and repeated vomiting.
But if your indigestion began suddenly, and you are experiencing severe symptoms or are older than age 55, your doctor may recommend:
Laboratory tests, to check for anemia or metabolic disorders.
Breath and stool tests, to check for Helicobacter pylori (H. pylori), the bacterium associated with peptic ulcers, which can cause indigestion. H. pylori testing is controversial because studies suggest limited benefit from treating the bacterium unless it is associated with a peptic ulcer.
Endoscopy, to check for abnormalities in your upper digestive tract. A tissue sample (biopsy) may be taken for analysis.
Imaging tests (X-ray or CT scan), to check for intestinal obstruction or another issue.
If initial testing fails to provide a cause, your doctor may diagnose functional dyspepsia.
Treatment
Lifestyle changes may help ease indigestion. Your doctor may recommend:
Avoiding foods that trigger indigestion
Eating five or six small meals a day instead of three large meals
Reducing or eliminating the use of alcohol and caffeine
Avoiding certain pain relievers, such as aspirin, ibuprofen (Advil, Motrin IB, others) and naproxen sodium (Aleve)
Finding alternatives for medications that trigger indigestion
Controlling stress and anxiety
If your indigestion persists, medications may help. Over-the-counter antacids are generally the first choice. Other options include:
Proton pump inhibitors (PPIs), which can reduce stomach acid. PPIs may be recommended if you experience heartburn along with indigestion.
H-2-receptor antagonists (H2RAs), which can also reduce stomach acid.
Prokinetics, which may be helpful if your stomach empties slowly.
Antibiotics, if H. pylori bacteria are causing your indigestion.
Antidepressants or anti-anxiety medications, which may ease the discomfort from indigestion by decreasing your sensation of pain.
Lifestyle and home remedies
Mild indigestion can often be helped with lifestyle changes, including:
Eating smaller, more-frequent meals. Chew your food slowly and thoroughly.
Avoiding triggers. Fatty and spicy foods, processed foods, carbonated beverages, caffeine, alcohol, and smoking can trigger indigestion.
Maintaining a healthy weight. Excess pounds put pressure on your abdomen, pushing up your stomach and causing acid to back up into your esophagus.
Exercising regularly. Exercise helps you keep off extra weight and promotes better digestion.
Managing stress. Create a calm environment at mealtime. Practice relaxation techniques, such as deep breathing, meditation or yoga. Spend time doing things you enjoy. Get plenty of sleep.
Changing your medications. With your doctor's approval, stop or cut back on pain relievers or other medications that may irritate your stomach lining. If that's not an option, be sure to take these medications with food.
Alternative medicine
Alternative and complementary treatments may help ease indigestion, although none of these treatments has been well-studied. These treatments include:
Herbal therapies such as peppermint and caraway.
Psychological treatment, including behavior modification, relaxation techniques, cognitive behavioral therapy and hypnotherapy.
Acupuncture, which may work by blocking the pathways of nerves that carry sensations of pain to the brain.
Mindfulness meditation.
STW 5 (Iberogast), a liquid supplement that contains extracts of herbs including bitter candytuft, peppermint leaves, caraway and licorice root. STW 5 may work by reducing the production of gastric acid.
Always check with your doctor before taking any supplements to be sure you're taking a safe dose and that the supplement won't adversely interact with any other medications you're taking.