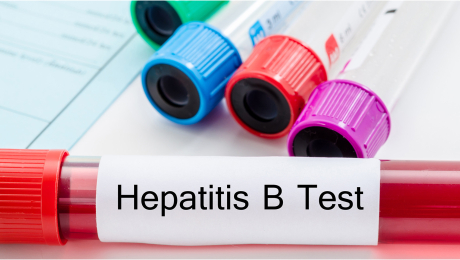 Acute vs. Chronic Hepatitis B
Hepatitis B infection may be either short-lived (acute) or long lasting (chronic).
Acute hepatitis B infection lasts less than six months. Your immune system likely can clear acute hepatitis B from your body, and you should recover completely within a few months. Most people who get hepatitis B as adults have an acute infection, but it can lead to chronic infection.
Chronic hepatitis B infection lasts six months or longer. It lingers because your immune system can't fight off the infection. Chronic hepatitis B infection may last a lifetime, possibly leading to serious illnesses such as cirrhosis and liver cancer.
The younger you are when you get hepatitis B, particularly newborns or children younger than 5, the higher your risk of the infection becoming chronic. Chronic infection may go undetected for decades until a person becomes seriously ill from liver disease.
Risk Factors
Hepatitis B spreads through contact with blood, semen or other body fluids from an infected person. Your risk of hepatitis B infection increases if you:
Have unprotected sex with multiple sex partners or with someone who's infected with HBV
Share needles during IV drug use
Are a man who has sex with other men
Live with someone who has a chronic HBV infection
Are an infant born to an infected mother
Have a job that exposes you to human blood
Travel to regions with high infection rates of HBV, such as Asia, the Pacific Islands, Africa and Eastern Europe
Complications
Having a chronic HBV infection can lead to serious complications, such as:
Scarring of the liver (cirrhosis). The inflammation associated with a hepatitis B infection can lead to extensive liver scarring (cirrhosis), which may impair the liver's ability to function.
Liver cancer. People with chronic hepatitis B infection have an increased risk of liver cancer.
Liver failure. Acute liver failure is a condition in which the vital functions of the liver shut down. When that occurs, a liver transplant is necessary to sustain life.
Other conditions. People with chronic hepatitis B may develop kidney disease or inflammation of blood vessels.
Prevention
The hepatitis B vaccine is typically given as three or four injections over six months. You can't get hepatitis B from the vaccine.
The hepatitis B vaccine is recommended for:
Newborns
Children and adolescents not vaccinated at birth
Those who work or live in a center for people who are developmentally disabled
People who live with someone who has hepatitis B
Health care workers, emergency workers and other people who come into contact with blood
Anyone who has a sexually transmitted infection, including HIV
Men who have sex with men
People who have multiple sexual partners
Sexual partners of someone who has hepatitis B
People who inject illegal drugs or share needles and syringes
People with chronic liver disease
People with end-stage kidney disease
Travelers planning to go to an area of the world with a high hepatitis B infection rate
Take Precautions to avoid HBV
Other ways to reduce your risk of HBV include:
Know the HBV status of any sexual partner. Don't engage in unprotected sex unless you're absolutely certain your partner isn't infected with HBV or any other sexually transmitted infection.
Use a new latex or polyurethane condom every time you have sex if you don't know the health status of your partner. Remember that although condoms can reduce your risk of contracting HBV, they don't eliminate the risk.
Don't use illegal drugs. If you use illicit drugs, get help to stop. If you can't stop, use a sterile needle each time you inject illicit drugs. Never share needles.
Be cautious about body piercing and tattooing. If you get a piercing or tattoo, look for a reputable shop. Ask about how the equipment is cleaned. Make sure the employees use sterile needles. If you can't get answers, look for another shop.
Ask about the hepatitis B vaccine before you travel. If you're traveling to a region where hepatitis B is common, ask your doctor about the hepatitis B vaccine in advance. It's usually given in a series of three injections over a six-month period.